Information is one of the most important assets a company has today. For this reason, having a good production document management system has become a key factor in guaranteeing productivity in Industry 4.0. In this post we tell you what it is and its main benefits.
Production document management software ensures that industrial information is organised in a secure and efficient way, so that organisations can access data faster, reduce costs and ensure document security.
To make it easier for you to move forward in the digitization process of your company and leave aside the mountains of paper and filing cabinets, we tell you what a production document management system is and what it is for. First, we invite you to learn about EBR software, which is the key to efficient paper elimination .
A production document management system is software designed to store, manage and control the flow of documents within the production area.
This software allows us to organise documents and digital images in a centralised location that all authorised team members can access easily and quickly, ensuring that the correct documents are used at the plant level. Now that you know what a document management system is, let's take a look at its functions. 
What is the purpose of implementing a document management system?
Agility and security are the two keys that sum up the mission of this system. Eliminating paper and physical files allows us to streamline processes and score points in terms of both productivity and energy efficiency. In addition, having all files digitised will allow us to manage their security and have them well located.
Regardless of the origin of the document, a production document management software serves to centralise all factory files in a single point of access.
In this way, a good document management system can automate tasks and workflows, such as reading a drawing or specification and indexing it to an article or industrial process with other factory-related actions and access to information.
Stages of optimal document management
From the time a document is created to the time it is destroyed, it goes through several stages, all of which are key to ensuring optimal document management.
To achieve this, it is important to start by defining which documents are part of our processes, how we can include them in our System and what information to extract and store together with the documents in its database.
Once the issue of information has been defined, it will be necessary to define its life cycle, how it interacts with the other processes and how it can be integrated into them. We break down the process into 8 steps that will help you to understand how the software works.
Planning. It is vital to review and assess information in the legal, technical and functional context of the company, as well as to analyse business needs and objectives in order to establish a document management strategy.
Production. In this step, documents and their origin are evaluated in order to categorise them according to their relevance and functionality in the processes they affect.
Processing. A production document management system is responsible for following the course of a document from its production to the fulfilment of its function.
Organisation. The objective in this phase is to classify and order the documents correctly.
Transfer. In this phase, the policies for the transfer of documents are defined, based on their format, migration and structure, as well as their preservation.
Disposition. The software carries out a systematic register that establishes documentary values, which allows the tracking of all the life cycles of each document, in order to give it its respective treatment.
Maintenance. One of the main objectives of the production document management system is to preserve information in the long term. Therefore, one of the key phases of the process is to ensure that the documentation is properly protected.
Appraisal. This phase facilitates the handling of documents, ensures their selection and determines which documents have lost interest or validity.
Each of these stages is essential to achieve success in document management and contribute to the improvement of management strategies to increase business productivity.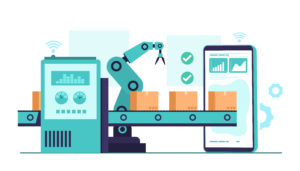 Benefits over similar software
Working with a production document management method means digitising all documents that were previously kept on paper. With the help of a scanner, the physical documents are converted into digital versions that are stored in a central location.
Organisation: This process greatly facilitates the task of organisation within an institution, as it makes it possible to order documentation and coordinate its access from different departments. With all files digitised and located in the same place, it is much easier to find, retrieve and work with documents from anywhere.
Automation: Another important aspect is automation. By establishing control over processes, software can identify document currency, ensure that the correct level of document engineering is the only one available on the shop floor, or automate repetitive tasks to save time and manage costs in the most optimal way possible.
Process productivity is also increased by having unified documentation for all team members and machines.
Security: If we start working with a production document management system , we must know that it already complies with the Organic Law on Data Protection, the General Data Protection Regulation (GDPR) and the ISOs concerning the description and management of documentation.
In addition, intelligent document management reduces the risk of working with large volumes of paper and allows us to preserve all documents in digital form for the long term and to keep their traceability.
Our MESbook Production Management module is ready to meet all these objectives in the most efficient way. This software brings together technology with real data and project management data, allowing you to apply the right medicine at the right time.
This new form of document management is one of the pillars for managing a company's resources in Industry 4.0. Ask our team for a demo and start managing your factory in real time.