We are a Digitising Agent in the Digital Kit Programme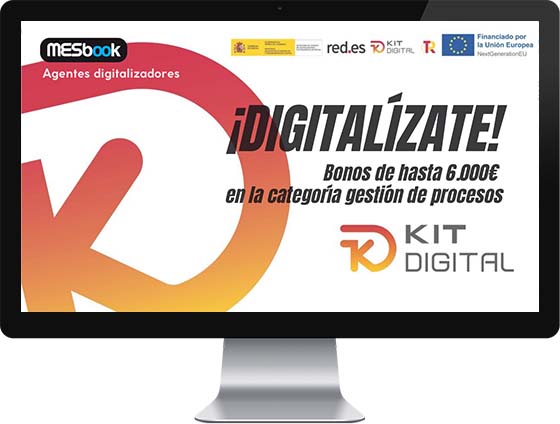 Digitise your industry, there is still time
What does the Digital Kit programme consist of?
Type of aid: Monetary provisions aimed at financing the adoption of one or several digitisation solutions from those available in the Catalogue of Digitisation Solutions of the Digital Kit Programme included in the Acelera pyme platform.
Direct award scheme: The beneficiaries of the aid will be awarded by means of a non-competitive procedure.
Target group: Small and micro-enterprises and self-employed persons whose tax domicile is located in Spanish territory.
Category: Process Management.
Amount: The maximum amount of aid per beneficiary will be twelve thousand euros (€12,000) in the Process Management category. The economic amount of the vouchers is non-refundable with an amount allocated according to the size of the company.
Deadline for submission: From 15 March to 15 September 2022.
How does MESbook help you with the Digital Kit?
MESbook Solution: MES/MOM System for Real-Time Factory Management
We support you in the preparation and justification process so that you can concentrate on what is important: digitising the factory.
If you decide to do it with us, we take care of everything together with our consulting partners.
100% of the projects we have submitted have been approved.
Can I access the Digital Kit with MESbook?
Small enterprises with between 10 and less than 50 employees.
Real-time factory productivity management
1. Automation of processes for the collection, processing and analysis of Production, Productivity, Quality, Warehouse and Maintenance data.
2. Real Time Factory Management. Immediate corrective actions and definition of improvement projects, based on objective information, all aimed at obtaining short and medium-term results in terms of direct cost savings, increased productivity and CONTINUOUS IMPROVEMENT in general. Control of what has already been executed.
3. Centralisation of all relevant documentation on manufacturing methods, product data sheets, instructions of any kind... so that there is a single access for personnel, through access to a URL provided by the company.
4. Advance of the different manufacturing orders, by operation, as well as Production and Consumption directly from the tablets and/or with the support of standard tools (barcode readers,...) where the operator can be linked to several Manufacturing Orders or machines, having also from the same Tablet notes for the production to be carried out.
Connected, robust and paperless Quality System
1. Fully integrated quality system, based on the digitalisation of all the control ranges/guidelines and work instructions and facilitating the execution of manual, automatic or laboratory controls in real time, eliminating the need for paper-based data collection.
2. Real-time analysis with instant ALERTS and MESSAGING for any non-conformity.
3. 100% traceability control, END TO END: from the most basic raw material to any final product format.
Transfer module
Real-time plant presence, identifying whether or not the number of personnel corresponds to that defined for the MACHINE-PRODUCT combination at that moment.
MESbook is a modular solution that is marketed on a pay-as-you-go and pay-as-you-sell basis. The following prices are approximate and will be formalised after reviewing each particular case:
Monthly fee price range: €1,200-1,750 per month for a selection of standard modules. 

Price range Sale: 24.000€ - 40.000€ with an annual maintenance fee for a selection of standard modules.