PRODUCTION PLANNING SYSTEM
Get to know our planning and scheduling method for factories
What is production planning software?
The planning and sequencing module of the MESbook helps to plan and schedule production in an optimal way and connected to the reality of the plant by working fully integrated with MESbook manufacturing.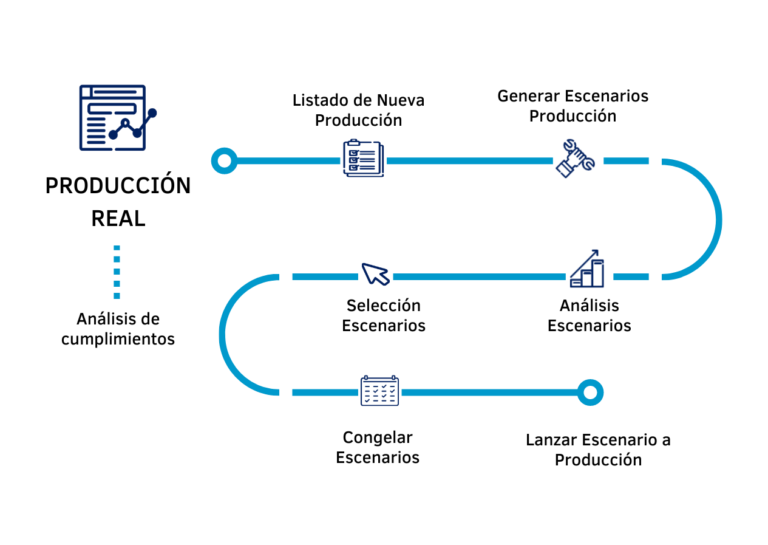 The key to our sequencing method: Service and Productivity
Availability of resources
Interdepartmental communication
What is included in the MESbook Planning/Sequencing module?
Advantages of the Planning and Scheduling system
It helps to schedule production taking into account the constraints and finite physical resources available: people, machines and costs.
It provides automatically, quickly and without errors, different scenarios for the management of simple schedules.
Systematizes a key process for the company, reducing dependence on people, Excel sheets, etc.
Communicates and feeds back in a bi-directional way. bi-directionally with the production module of MESbookimproving reliability by always working with the factory reality.
Planning and scheduling levels
Logical ordering of OFs, grouped with criteria and display of expected completion time.

Graphical display of orders and resources in the form of a Gantt chart.

Handling of graphic interface "drag & drop" assigning the orders to the lines with recalculation of estimated time of completion calculated at standard speed.

Connectivity: Connected to the ERP Production Plan and to the actual production (processed and good if there is automatic scrap) and to the ERP for the purpose of good discharged into the system.

Finite capacity.

Batch and serial planning.

Customizable alert system.
intelligent sequencer planner
Incorporates into the planner an optimal sequence proposal based on requested deadlines, change matrix and resource availability criteria (people and machines) and costs.

Scenarios: scenarios can be created and after review by the user, the user can decide which of all the scenarios becomes the current one so that all the data is updated.

Flexibility for the treatment of tasks: dependencies, division of chained or parallel tasks, etc.

It works with a Machine Learning engine and by applying Artificial Intelligence proposes the best sequences and productive scenarios.  

It takes into account the resources fed into the tool.

 
Benefits of incorporating our module in factories
Improved customer service
Minimizes manufacturing costs
Improved internal coordination
FREQUENTLY ASKED QUESTIONS
Interested in the Planning/Sequencing module?
Contact us to request a demo or a personalised quote