HUMAN RESOURCES MANAGEMENT SOFTWARE
Optimizes the administrative tasks of human resources management in an efficient and centralized manner in a single system.
HR is one of the key pieces of Industry 4.0.
The Human Resources software allows the factory to be interconnected in real time with the assigned resources, whether direct or indirect.
Mesbook links the operator's location log, automates the recording of hours worked and automatically calculates the different time concepts and assigned bonuses.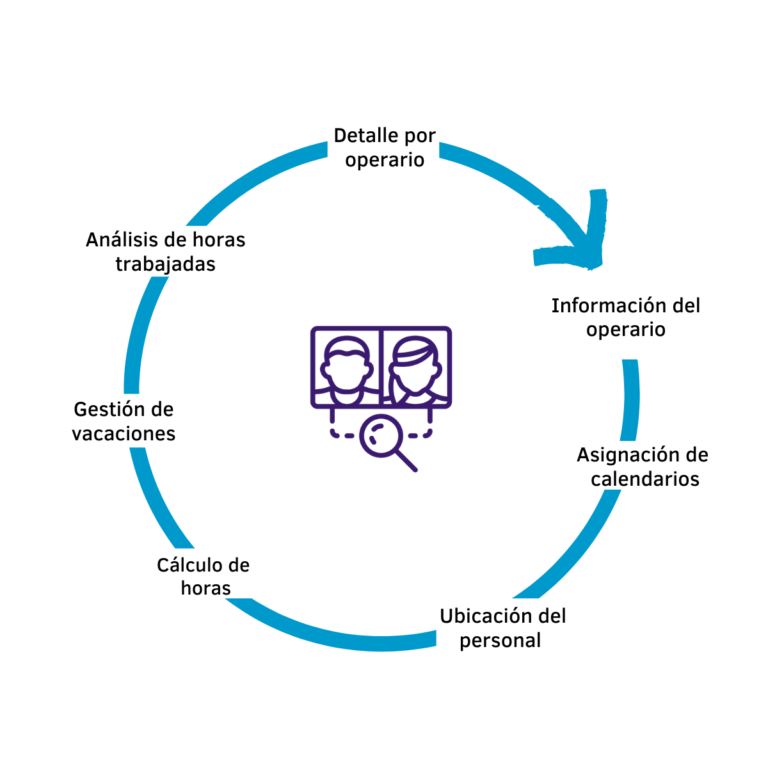 Problems identified in HR management in factories
What is included in MESbook's Human Resources MES module?
It is the system linked to the operator's location record.

Tablet or PC screens located in the different manufacturing areas allow operators to locate themselves on a specific line. The cost of the same is passed on to the manufacturing order in progress on that particular line.

This system ensures the exact location of the operator throughout the working day.
This is the basis for defining the base calendar for the year and the exceptional days or hours (night, holidays, overtime, etc.), associating a specific cost to each one. It takes into account the hours of the agreement and the restrictions in terms of bag of hours and compensable hours.

On this basis, the system projects an annual calendar that can be customized for the different departments. Each of these calendars is assigned to each employee.
Operator-Day Control Record: Individual and consolidated
Selecting a specific operator, the screen displays a summary of what the operator has done during the day (entry, exit, overtime, O.F., etc.), together with the respective cost.

It is also consolidated for all plant operators on a given day.
Analysis of productivity per operator
For each operator, a performance evolution is displayed with the following parameters: absenteeism, gap in € compared to the target in absolute and percentage terms.

The performance history of that operator is shown graphically to see the trend compared to the organization's average. The operator's performance can be analyzed in terms of OEE, shrinkage and MOD.

In addition to this, the system proposes a ranking of operators in the year accumulated.
Basic operator information
It is the master of the operators where all the relevant information at the operator level is incorporated. Among the key points to assign, you enter their annual salary, date of incorporation and work group to which they belong in order to be able to subsequently make their calendar assignment.

Each operator has a personal file containing totalizers of hours worked vs. theoretical and standard, together with the balances of overtime, bag hours and compensable hours.

Each operator will have the detail of vacations, accumulated delays, days worked and accumulated bonuses.
Advantages of implementing the software in your factory
FREQUENTLY ASKED QUESTIONS
Interested in the Human Resources module?
Contact us to request a demo or a personalised quote