WAREHOUSE MANAGEMENT SOFTWARE - SGA
Control and optimize all your warehouse management processes connected to the factory floor
WMS for inventory and internal logistics management
You will be able to manage the production and consumption of materials, semi-finished products and final product directly from MESbookwhich will communicate in real time with the ERP, multiplying its efficiency and profitability.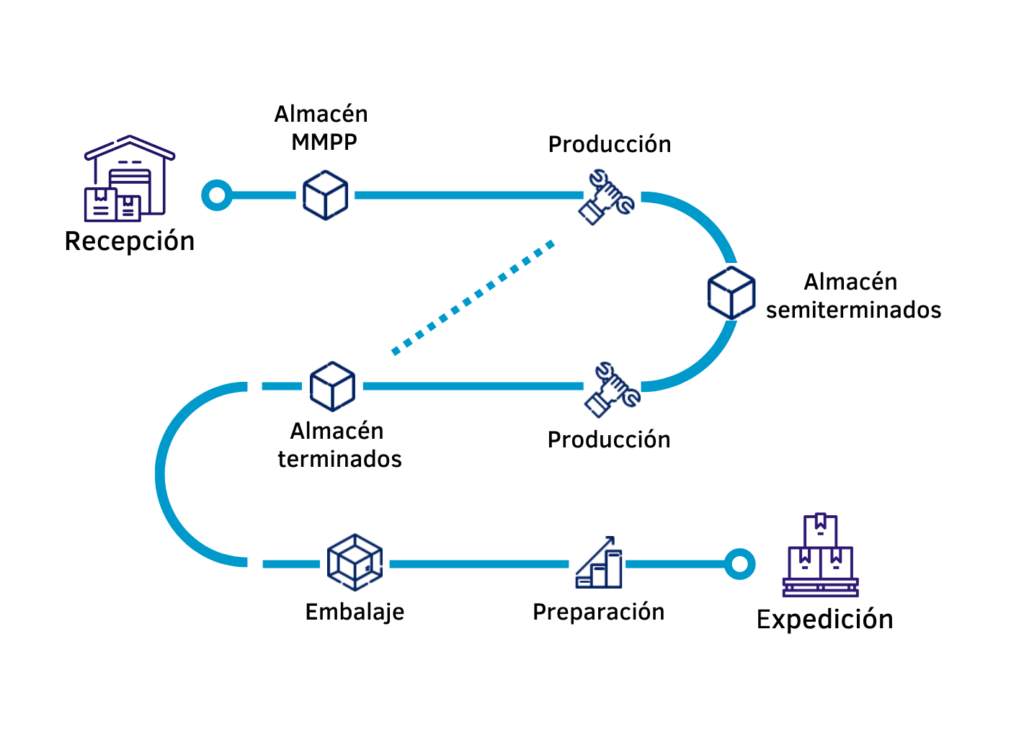 Keys to warehouse management in Industry 4.0
Physical movement equals computer movement, in real time.
Reliability in the intermediatestock of raw and intermediate materials.
Robustness and traceability in the flow of material movements.
Maximize the efficiency of the entire logistics operation in the digitization of processes.
Fluidity in product and information flows.
Improvement of times and reduction of errors and logistic costs.
Storage capacity.
Motion Analysis.
Traceability of material movements.
Automated warehousing logistics solutions
What is included in the MESbook WMS module?
Management of material receipts, movements and issues
Product reception and inclusion of quality criteria (inspections, validations, etc.).

Material transactions (raw materials, semi-finished and finished products).

Outbound management: picking preparation from order, delivery note generation, product discount and warehouse management program communicated with the ERP in real time.
Material preparation for production, manufacturing and consumption
Material preparation for production orders.

Flexibility: Incorporate new raw materials, alternative materials, number of batches not contemplated. We adapt at all times.

Registration of actual or automatic production and consumption against cost estimate.

Connection to load cells, flow meters, etc.
Locations, inventory management and analysis
Definition of locations for the entire factory: central warehouse, intermediate warehouses, on production lines, etc.

Obsolescence control functionality, based on actual consumption and parameterizable future projection.

Inventory management, with parameterizable ABC classification, autonomous analysis and alerts for the execution of cyclic counts.
Advantages of a WMS system in factories
REDUCTION OF OPERATIONAL COSTS
Optimize the location and distribution of your factory's merchandise and minimize the manual tasks of your staff by digitizing your operations, thanks to our advanced warehouse management software.
COMPLETE INVENTORY VISIBILITY
By recording incoming, outgoing and relocations of material, you will be able to control the entire inventory, which will allow you to optimize demand forecasts.
INTEGRATION WITH THE VALUE CHAIN
Digitizing your factory's warehouse with our warehouse management software will allow you to integrate the data collected with the rest of your factory's automated information.
With the implementation of a WMS you can improve the security of the information flow managed in the warehouse. In addition, it allows complete traceability of the different movements of the goods.
FREQUENTLY ASKED QUESTIONS
Yes, the SGA module of MESbook includes kanban with alerts that warn when a component is below its safety stock and a material replenishment must be made.
The supplies of materials required for manufacturing are managed through our warehouse module / WMS, where raw materials are transferred from a central warehouse to the line location. Transfers are made through containers with unique traceability. When that container is transferred to the line, the availability of the batch of raw material that contains it is generated and in this way the operator can consume that component against its BOM in the open production order in that production line.
Interested in the WMS module?
Contact us to request a demo or a personalised quote